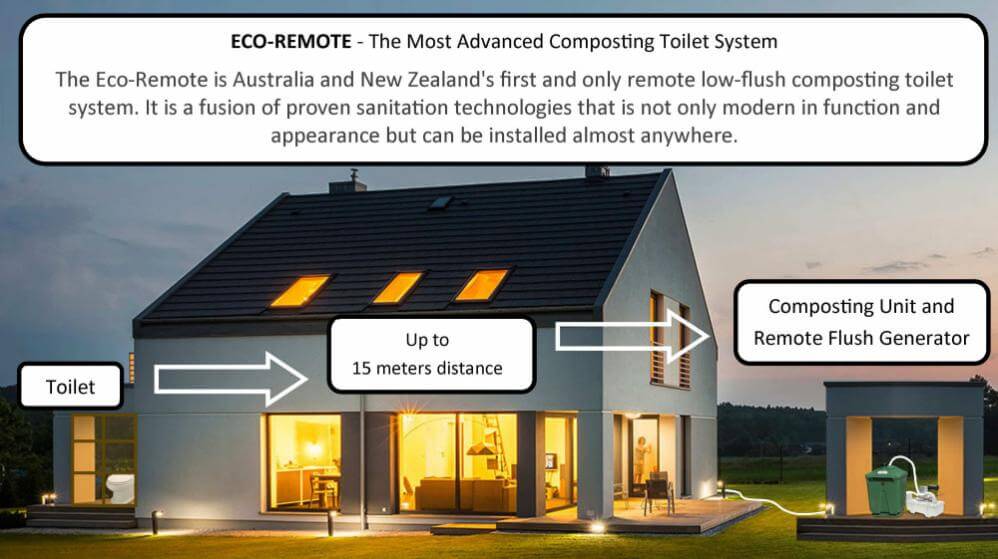 Introducing Australia's
ONLY Eco-Remote Composting Toilet. 

 THE NEW GOLD STANDARD IN COMPOSTING TOILETS!
This unique system allows for the composting unit to be installed up to 15 meters away from the toilet and even up to 1.8 meters uphill! The elegant porcelain bowl in your toilet room belies the fact that you are an Eco-Warrior!
Slab buildings OK!
Retro-fit-able to existing buildings!
Composting toilet for previously impossible situations!
At the heart of the revolutionary Eco-Remote composting system is the two times UN award winning GT System. This robust batch composting system is paired with a proven remote flush unit and an elegant low flush ceramic bowl. These units have over 40 years of proven reliability.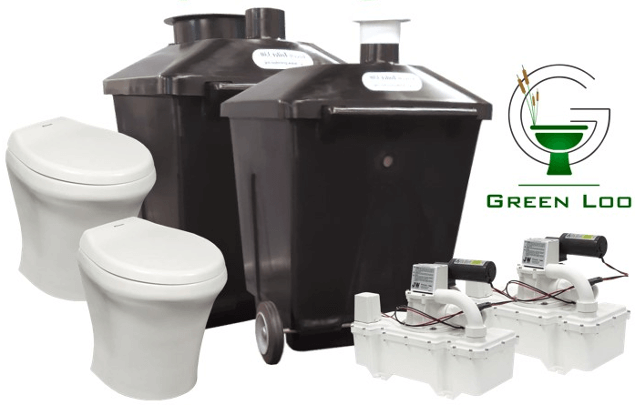 GT 330 Composting Unit with 2 pedestals and 2 remote flush generators – 
8 people permanent use
THE MOST ADVANCED SYSTEM
The Eco-Remote is Australia's first remote low-flush composting toilet system. It is a fusion of proven sanitation technologies that is not only modern in function and appearance but can be installed almost anywhere.
Advantages of the Eco-Remote System
Environment-friendly
A truly modern toilet in both looks and function
Uses up to 96% less water than flush toilets (as low as 0.3 l per flush)
Aerates and pulverizes waste for better, faster composting-action
Installs where others cannot
2 toilet pedestals can be attached to 1 composting system (GT 330 only – requires second remote flush generator)
Ideal Applications for the Eco-Remote
Can be installed in any application where any other compost toilet systems can be installed. However there are some applications where only an Eco-Remote will work, including:
Home installations on concrete slab or with little or no room below as well as Cellars, Sheds, Work Shops, Cottages
Applications where a remote composting system is desired – composting happens away from the main dwelling
Installations where a self – contained unit is insufficient because of capacity requirements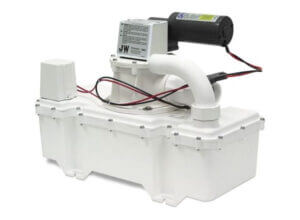 Remote Flush Generator
24V DC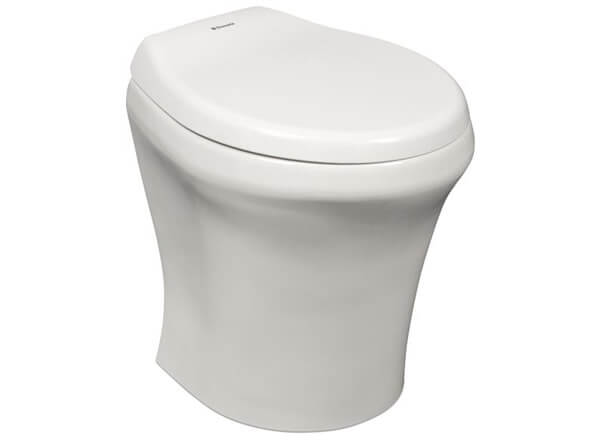 Standard Ceramic Low Flush  Bowl/Pedestal
Complete System Includes
GT 120 or GT 330 complete system with 2 composting containers (1 active, 1 fallow), 1 Set of Heavy Duty Wheels, Excess Liquids Hose, Hose Clamp, 12V Fan, 12V/240V transformer, Vent Fittings, 2 x Vent Cowls, 4 x 1m of Vent Pipe, 3 x Vent Pipe Connectors, 1 x Dektite, 3 x Stand Off Brackets, 3m of Socked Corrugated Slotted Drainage Pipe, 3 Bags of Bulking Material, 1 Bag of Tray Lining Material, 2l Liquid Enzyme Cleaner, 500ml Spray Bottle, 5l Compost Starter Granules.
Remote Flush Generator (Double Systems features 2 Flush Generators)
Ceramic Low Flush Toilet
Electronic Wall Control Panel
24V Power Supply Unit 
5m Hose (enough for a standard 'next door' installation. Extra hose can be purchased separately)
Gear Clamps & Connections, Basic Kit of Plumbing Fittings, Detailed Instructions
Capacity
PPD refers to persons per day. Full-time is daily – based on 3.5 uses per person per day (Australian Standards).
GT 330 –  16/8 PPD Part time / Full-Time Use
1 or 2 Pedestals
GT 120 –  8/4 PPD Part Time / Full-Time Use
1 Pedestal only
Specifications
• Toilet to remote Flush Generator Maximum Distance: 15m
• Head (Toilet to Flush Generator height) Maximum: 1.8m
Wall Mounted Control Panel below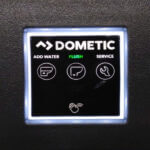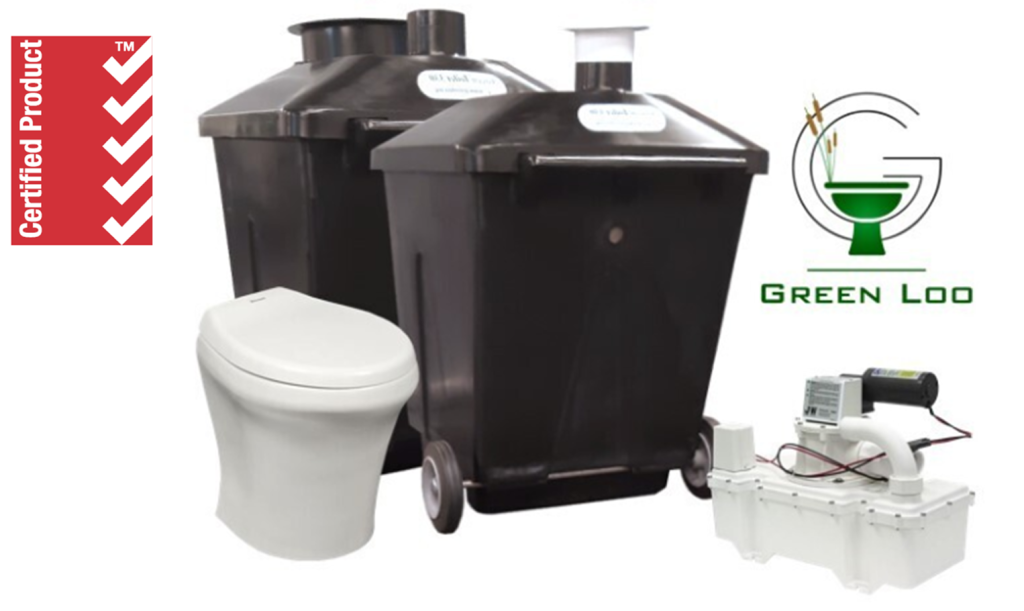 GT 330 Composting Unit with 1 pedestal and 1 remote flush generator – 
8 people permanent use