100% Australian Made 
Introducing the Green Loo CF 4 –  Tiny Homes.
The  CF 4 – Ideal for small & medium applications where a low profile is required.
The first continuous composting system perfect for tiny Homes and 'Weekenders'!!!
We've Done it Again – a World First!!!
The Best Value Continuous Composting System on the Market at $1,995.00!   
New stock mid-December
Waterless, odourless & hygienic – No chemicals

Solar option available

Quick, easy installation – by any handyman

Sturdy & simple design – break-down proof. No fuss maintenance

Single composting bin, no exchange of containers necessary

Low profile – only 325 mm underfloor clearance required when installed partially buried.

Continuous composting system minimises maintenance

Locally made with recycled material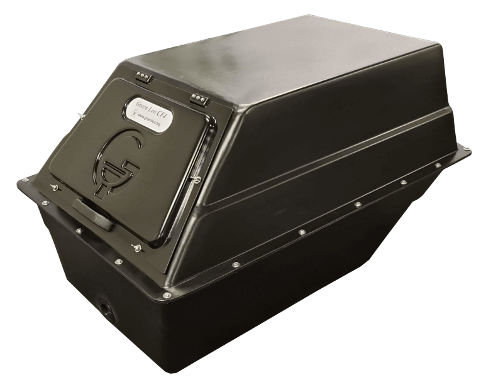 When designing the CF Series, Green Loo wanted to introduce an affordable continuous composting system to the market, a system that requires only 325mm clearance under floor. The CF 4 is therefore ideal for Tiny Homes but is equally useful for medium size domestic applications.
Here at Green Loo we believe strongly in the KISS principle – and best prices for you.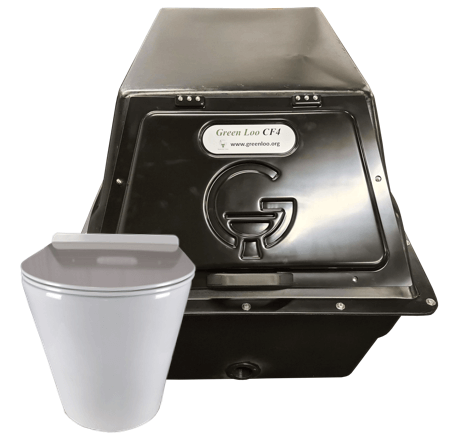 Australia's most affordable continuous composting toilet!!!
CF 4 Specifications:
The CF 4 measures 760 w x 1150 l x 740 mm high, the chute extends up to an extra 550 mm.
The system services 3-4 people full time (16 visits daily (average), 5,840 visits annually (approximately)
The CF 4 can be buried half into the ground – therefore only requiring 325mm clearance below floor.76
Complete with 'Oslo' Porcelain Pedestal $1,995.00
The CF Systems Explained
The Cultus Fulcrum system is based on a continuous composting process in one single container. As the organic material decomposes it will reduce in volume by up to 80%. The compost pile is therefore always reducing whilst new material is being introduced from the back of the system. The finished compost is removed from the front of the container.
The CF Name Explained
Both words are Latin. Cultus means toilet, and Fulcrum is a single point – so a toilet that has a single chamber. An alternative interpretation is Cultus, meaning culture or society, and Fulcrum being a turning point. So this is also an expression how we at Green Loo are helping society in this pivotal period of change.  
Or as we say: Save the world sitting down® (& every bit helps).
CF Maintenance
A cupful of carbon rich covering material is added after each solid deposit which ensures the correct carbon/nitrogen balance for efficient composting. Rake the compost pile every 3 months or so. Remove the fully broken down compost from the front of the unit every 3 months or when necessary.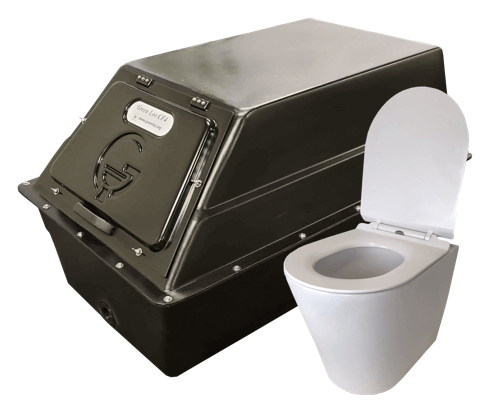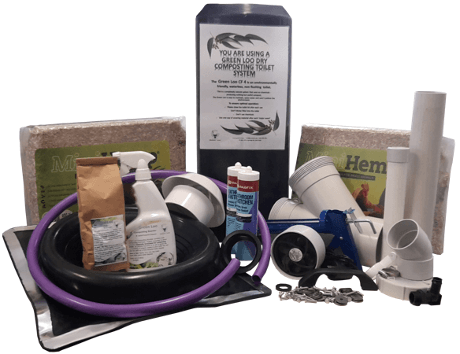 Green Loo's CF kits come with everything you need to set the system up:
Composting container, drainage floor, waste chute, 12V fan & 12V/240V transformer, vent fittings, excess liquids drainage hose & fittings, drainage service pipe, nuts, bolts & washers, Silicone, caulking gun, Wallace seal, composting bacteria, liquid enzyme cleaner, covering material/bulking agent, instructions, wall sign & and 'Oslo' Porcelain pedestal with soft close seat. 
For transport cost reasons we don't include the lengths of 100mm vent pipe which are easily available from your local hardware/plumbing store and the slotted drainage pipe for the liquids drain. 
However, you can purchase our Vent & Drain Kit if you wish 'to make life easy'.
Click on the video above for an introduction to our CF Systems
The  Porcelain 'Oslo'  Pedestal.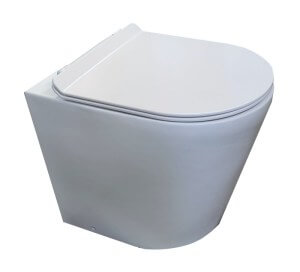 'Oslo' Porcelain Pedestal – with Deluxe Slow Close Seat
The most upmarket dry composting pedestal on the market today, the 'Oslo' porcelain pedestal combines timeless elegance with the unmatched durability and class of porcelain. Now available as an option with black toilet seat. 
With a glass-like smooth ceramic finish facilitating easy cleaning, it will look brand new for many years to come. this pedestal is sure to be the envy of any compost toilet aficionado