Ideal for RVs, Mobile Homes, Boats, Camping,
Caravaning, Glamping and Tiny Homes
RV-Pod Information
Privacy shutter ensures compost is hidden from view when not in use.
Solids container is lined with a compostable bag – making emptying quick and easy.
Urine diversion system ensures only solid waste is bagged – maximising capacity.
'Quickdrain' extra hi-flo liquids outlet.
Silent 12V fan and convenient urine separating system making it the perfect, odour free, collection compost toilet.
Easily connects to mains power, 12V battery or optional solar pack (see below for our solar power kit).
Designed for easy installation using common handyman tools.
Virtually unlimited usage – as solid waste is bagged and disposed of wherever convenient.
Sturdy Construction. Made of ASA – with high resistance to impact, chemicals and UV light.
Incorporating a LED backlit liquids indicator window which lets you instantly ascertain the liquids level in your container – therefore no more unpleasant and messy surprises.
Perfect for movable situations and slab buildings, as no underfloor space is required.
100% Australian Manufactured!!!
$1,195.00
Includes Solids Container & Lid, Liquids Container & Lid, Roll of Compost-able Bags, 12V Fan, LED Light & 12V/240V transformer.
The RV-Pod is shipped without vent fittings. Its variety of installation options (like boat, caravan etc. etc.) – mean that no prescribed set of fittings suits all applications. However we do offer an optional 'Moving Vent System' and 'Stationary Vent System', depending on whether your install is stationary or regularly traverses 'surf or turf'.
Capacity: Incorporates a large 15 litre solids container & lid, as well as a 5 Litre liquids container and lid.
Specifications: Dimensions 530mm(L) x 350mm(W) x 500mm(H).
Power usage: Fan 3W, LED light 1W.
The RV-Pod's fan & light can be powered by mains electricity, 12 V battery or by connecting it to a 12V solar power source.
See our solar power system below in the 'shop' section.
Incorporates an Australian first – the LED backlit liquids indicator window which lets you instantly ascertain the liquids level in your container and when it's due to be emptied. No more messy surprises or late night emergency emptying trips.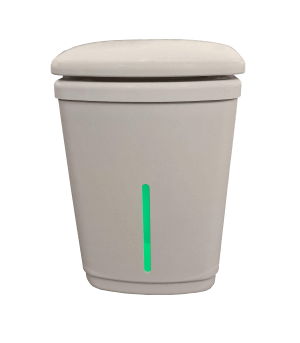 Requiring no water, a silent fan creates air-flow within the system eliminating odours. At the same time the fan pulls air through the system which dehydrates the solids. Once the collection bin is full, it is taken to the garden compost pile or bin. The contents and compostable bag are deposited and covered with 10cm of organic matter, such as grass clippings, where both bag and contents will break down. Alternatively it can be disposed of at any waste disposal facility.
Covering material, such as wood shavings can be used as a cover material to minimise visual/olfactory impact if required.
An appealing design and simplicity of use make the RV-Pod a great choice for any location. The human waste can be added to a composter to break down into a hygienically-safe material that can be recycled back to nature without polluting the environment.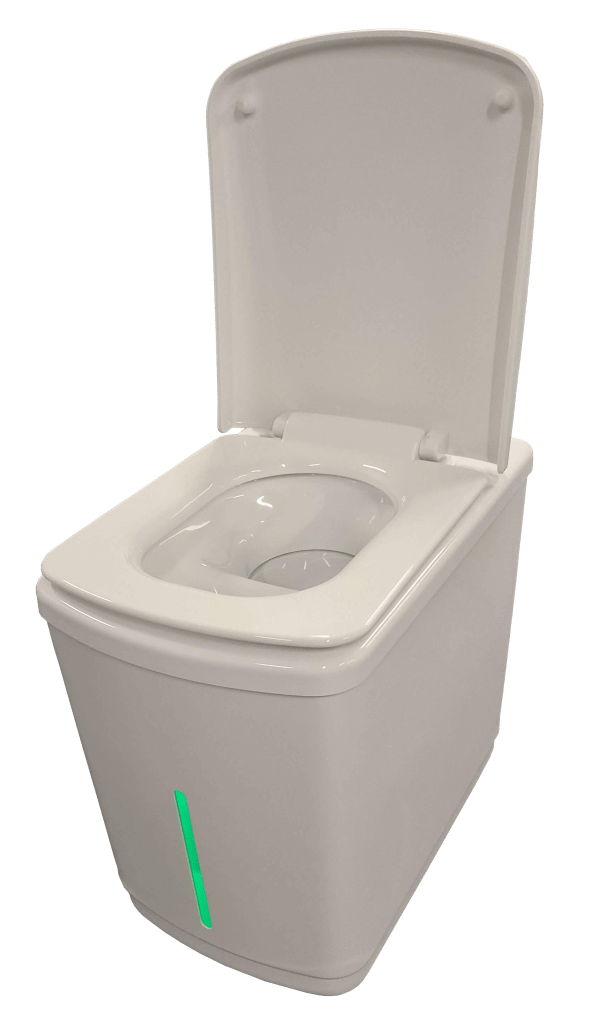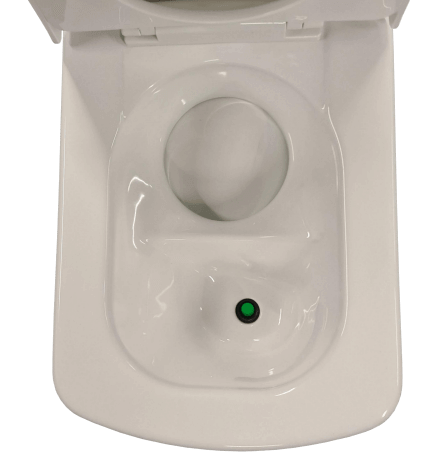 A convenient privacy screen is incorporated into the design to minimise visual impact of the compost pile.
Extra solid bins & lids, as well as liquids containers & lids are available.
Optional external liquids collection kit available – either for liquids dispersal in a trench or collection in a larger liquids container outside.
This can also be configured to collect the urine below the unit (below floor level).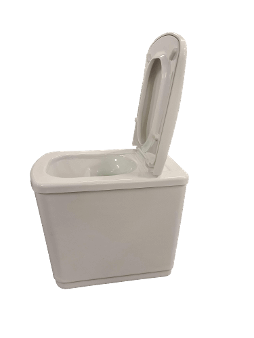 See our video introduction to the RV Pod above
Click on pictures below showing the different facets of the Green Loo RV-Pod.