All units on this page are Australian Watermark Certified –
They are approved by councils Australia wide.
The Grey-Flow Greywater Diversion Systems 
Developed in Australia 6 years ago to help combat drought and water restrictions, the Grey-Flow greywater diversion systems have also been used in many other different applications such as drainage sump pump station, and even rainwater diverter. The Grey-Flows are a state of the art compact, economical and versatile greywater system.
With the cost of water constantly rising and water restrictions in place in many parts of the world, it make sense not to throw out the water that has been paid for and to reuse it to irrigate the household garden and trees. Of course, more and more people are going off-grid by choice and how to treat Greywater is a conundrum that many people need to solve.
Today Grey-Flow greywater systems are widely used to filter and pump laundry, shower and basin water into irrigation systems for gardens. The greywater system was originally designed for this specific application and carries the appropriate health and plumbing standards and certifications in countries such as USA, Canada, Australia, New Zealand & South Africa. Over 10,000 G-Flow Greywater diverter systems have been sold worldwide with remarkable plants and landscape outcome, as well as great water saving results (as much as 200,000 Liters per household per year).
In addition this greywater system has won several water saving awards in shows worldwide. Although most of the detergents today are biodegradable and environmentally friendly, the use of low phosphorus and low salt detergents are recommended for improved long term results.
If kitchen water is to be dispersed through this system, a Grease Trap needs to be installed to condition the water to a suitable standard, eliminate solids and grease/oil, and you are encouraged to check with your local council for approval.
The pipe sizes between the grease trap and the greywater diversion device needs to match up – therefore we have developed a 50 L grease trap that has a 50mm inlet/outlet to match up with the EZGREY 50M 50mm inlet – making it the most economical grease trap/greywater diversion combination on the market and a preferred option for Tiny Homes. Combine this with the Drip Tube Complete Kit, and you'll have the best value system available.
The systems come with manual or automatic filter cleaning, as well as a host of other option. To find out more details about these options, as well as parts (pumps, filters, valves, fittings etc.), contact us and we will be only too happy to discuss your requirements and send you a price list.
They are available as Above Ground/Partially Buried or Below Ground Systems
Above Ground / Partially Buried –
Manual Cleaning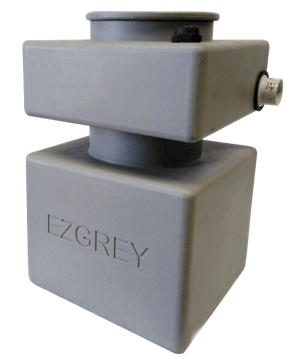 The EZGREY
The EZGREY & GFPS-AG-M Greywater Reuse System are a compact, low cost unit suitable for small/medium sized homes or other single application diversions. This system filters household greywater and discharges it for garden irrigation. Ideal for retrofitting existing buildings.
The EZYGREY is a manual filter cleaning unit with 50mm inlet (therefore suited to combine with grease traps – that have a 50mm outlet).
The GFPS-AG-M is a manual filter cleaning unit with 100mm inlet (therefore suited to combine with grease traps – that have a 100mm outlet).
See video below of their predecessor, the G-Flow, paired with the optional Rotor-Valve for illustrative purposes for manual cleaning options.
$990 – $1,265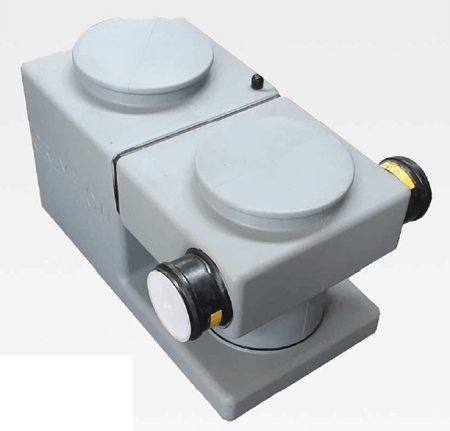 Above Ground / Partially Buried –
Self Cleaning
The GFPS-AG-S Above Ground Plug & Play family product is a true Greywater diversion system that is fully automated, easy to install and can be retrofitted to existing homes or installed on new homes. Whilst showering or washing clothes, the greywater is directly diverted to your garden with a minimum water storing time. This unique patented design reduces health risks, mosquito and bacteria breeding. The automatic cleaning option ensures easy maintenance of the system. This greywater system is voted to be the most maintenance free system in the market! Available as automatic cleaning option only. See video below of it's predecessor for illustrative purposes for the self cleaning option.
Supplied with 100mm inlet as standard, it can also be custom-ordered with a 50mm inlet.
$2,090.00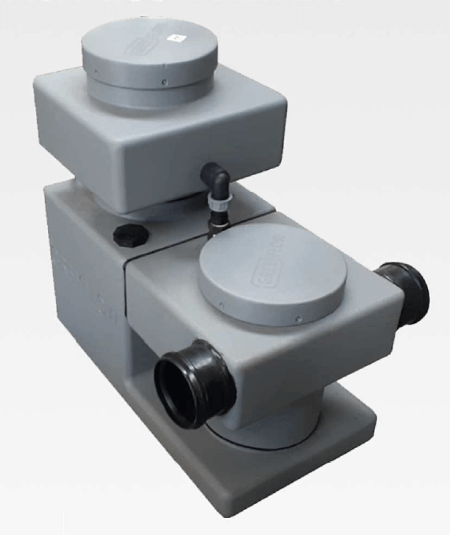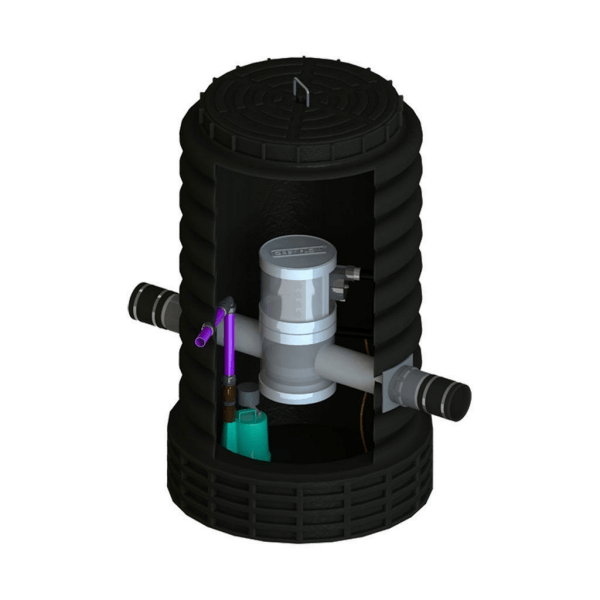 The Grey-Flow PRO family product is a Greywater diversion system designed for commercial use with a maximum daily volume of up to 24,000 Litres. The unique design which integrates multiple sensors and a self-cleaning mechanism (or manual cleaning option), enables large amount of Greywater to be reused in a maintenance free manner. This greywater system is the most powerful diversion system available in the market. See video below.
$2,475.00 – $3,300.00
Especially designed for Tiny Homes on Wheels, the COMBINED GREASE TRAP AND GREYFLOW DIVERTER comes in at a very respectable 410mm height.
It combines a 60L grease trap (choice of 50mm or 100mm inlet (please specify)) with the GFPS-AG (100mm inlet) in either the manual (GT-GFPS-AG-M) or automatic cleaning (GT-GFPS-AG-S) option. It is also available with the 300W or 400W pump upgrade.
It is ideal for Tiny Homes on Wheels as it fits underneath most Tinys and – if you are thinking of moving every now and again – is a breeze to 'relocate'.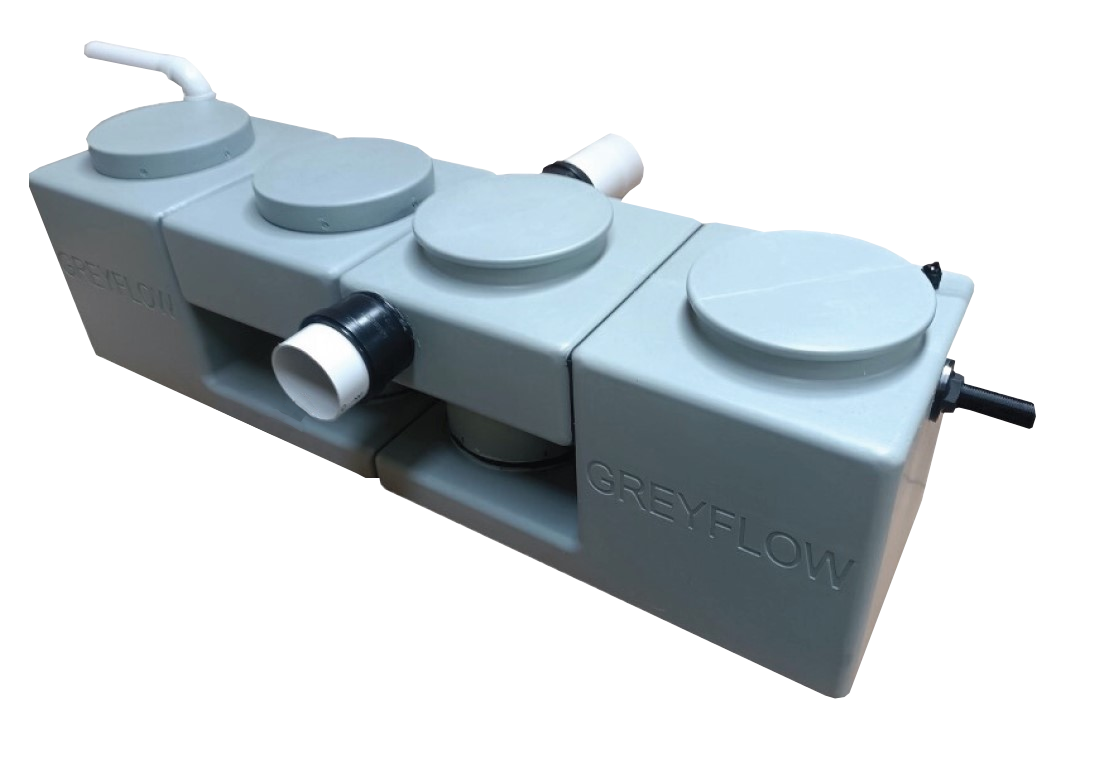 If kitchen water is to be dispersed through a Greywater System, Grease Traps are required by council to be installed together with Greywater Systems.
Grease Traps are designed to remove oils and grease from kitchen waste before they can reach the Greywater System. This simply ensures that the Greywater System isn't overloaded with nutrients.
Green Loo offers Grease Traps from 45 litre capacity upwards, for both above ground and in-ground installation. Grease Traps start as low as $195. Please contact us for a quote on your specific Grease Trap requirement