Designed and Manufactured in Australia! 
With external, IP68 rated fan (instead of built-in) for noiseless operation inside your bathroom.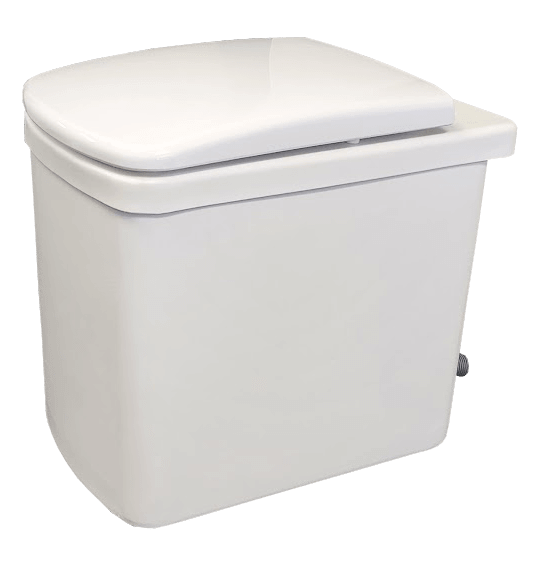 Tiny-Pod Information
1 – 2 people full-time use / part-time use – can be increased by adding optional extra compost bins
Elegant and sturdy construction with high resistance to impact, chemicals and UV light
Convenient 'transit tray' to eliminate dripping when exchanging containers
Reduces waste by 70% -90%, leaving behind nutrient rich, hygienically safe compost for disposal
12V/3W low consumption fan and convenient drain system for any excess liquid
Easily connects to mains power or optional solar pack (see 'shop' section – bottom of page – for our solar power kit)
Two batch composting system allows for maximum capacity – expandable with extra containers
Designed for easy installation using common handyman tools
Perfect for tiny homes and slab buildings, as no underfloor space is required.
Class leading size/capacity – 33% larger than comparable systems!!!
Australia's most affordable composting toilet!!!
$895.00
What do you get?
Comes with 2 composting containers (44L capacity each), 1 lid & 1 transit tray as standard, 2 x Jute liners – plus 12V fan & housing, 12V/240V transformer, vent cowl, moisture trap to protect the fan from condensation, covering material, compost starter/accelerator, 65mm pipe & excess liquids drainage pipe.
This is everything you need to set the system up and get going, except the 100mm vent pipe and slotted drainage pipe (not included for transport reasons and cheaply obtainable locally).
However, you can purchase our Vent & Drain Kit if you wish 'to make life easy'.
Specifications: Dimensions 520mm(L) x 350mm(W) x 490mm(H), Toilet Seat Height 458mm
The tiny-Pod's fan can be powered by mains electricity, or by connecting it to a 12V solar power source.
See our solar power system in the 'shop' section – bottom of page.
Rated at 1-2 person full-time use / part-time use, the Tiny-Pod's capacity can be increased by adding optional composting bins ($95.00 each including lid). Each bin increases the capacity of the system by 1 person. When a compost bin fills, just remove the bin and move it outside for further composting and place the next bin inside the unit.
Equipped with a convenient drain tube, the Tiny-Pod drains off any excess liquid not evaporated to be dispersed via a gravel filled dispersal trench.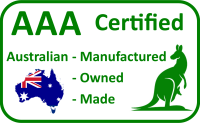 The Tiny-Pod's proven batch composting system combined with constant air circulation proves an excellent solution to almost any situation. A very appealing design and simplicity of use, makes the Tiny-Pod a great choice!
The Tiny-Pod is easy to install by anyone with basic handyman knowledge in just a couple hours with common household tools.
The water-less Tiny-Pod compost toilet is a self-contained batch composting toilet system. A silent fan generates air-flow for enhanced evaporation capacity. This establishes ideal conditions for efficient break-down of the contents and guarantees completely odour-free operation.
Hemp/peat/wood shavings is used to aid in this process and as a cover material to minimise visual/olfactory impact.
An appealing design and simplicity of use make the Tiny-Pod a great choice for any location. The aerobic decomposition and evaporation functions reduce human waste to a hygienically-safe material that can be recycled back to nature without polluting the environment.
See the Oz-e-Pod video:
Click on pictures below illustrating the pleasing design with transit tray (to avoid dripping when exchanging containers)